A Message from Judge Barker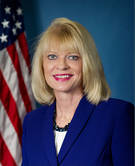 It is truly an honor and a privilege to serve the citizens of Cuyahoga County as a Judge in the General Division of the Court of Common Pleas.  Serving as an integral part of the judicial system is an important responsibility that I take very seriously and discharge with hard work, respect for others and integrity.  On November 6, 2012 each of you will have the privilege of voting, also an important responsibility that impacts our judicial system and the well-being of our county and the individuals, families and communities that
comprise it.
As you prepare for the November election, I ask that you take the time to learn about me.  You'll find that my education, legal experience and background make me uniquely qualified to continue my service on the bench.  Share your knowledge of me and my candidacy with your family and friends and ask them to join you in support of my candidacy to be retained as Judge Barker, Cuyahoga County Court of Common Pleas-General Division.   Most importantly, I humbly ask for and would appreciate your vote for me on Election Day.
Together we can and will do our part to ensure that our judicial system is working effectively for all of us.  Thank you.
Sincerely,