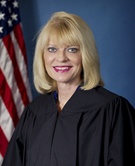 Judge Pamela A. Barker brings a fresh perspective and balanced approach to her courtroom developed through her legal experience as a 28-year practicing attorney and 11-year magistrate, as well as her life experience as a woman, wife, and mother.
Having represented people with varied histories, viewpoints, and needs, Judge Barker is adept at evaluating both sides of an issue.  On the bench, she ensures that all parties are heard, both sides of the issues presented are carefully considered, and the law is consistently applied. Thus, fairness is achieved and justice to the residents of Cuyahoga County is served.
Judge Barker is uniquely qualified to well-serve the people of Cuyahoga County – and should be retained in November, 2012.
See How Judge Barker was ranked by four cooperating bar associations.